How to operate the gallery |
Goggles supported. VR functionality released!
October 14, 2021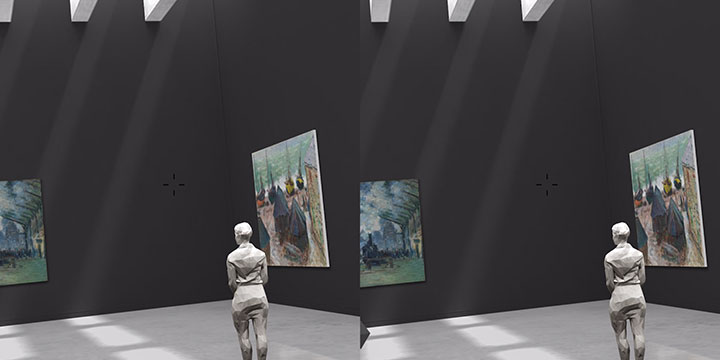 Added VR functionality.
Further virtual experience will be possible.
Gallerist3d, a virtual gallery service, has released a VR function that "provides a virtual experience as if you were there" on iPhone, Android, iPad, and other devices.
Please check the "MULTI" demo https://sv60-en.3d-gallery.net/?uid=theartinstituteofchicago to see what kind of VR experience you can actually have.

The "VR MODE" button appears when accessing the site with a smartphone or tablet.
Turn the phone vertically for single VR and horizontally for VR goggle mode.
Holding up the tablet or smartphone will move the viewpoint, and continuing to stare at it with the crosshair cursor will move the viewpoint.

Please refer to the "Enjoy the gallery" page for detailed operating instructions.
"My own world in a virtual space."
How about a VR space decorated with your own artwork?